NEWS
Facebook
NEWS
EDIT15 Summer School: Innovative ideas, new friendships, great memories
15-10-Thu
The 19th annual EDIT summer school marked another successful two weeks where 100 students had the opportunity to learn about technology, exchange ideas with their peers and put their knowledge to work – all while having fun.
As in the previous years, the summer school was held in six cities in Slovenia, Serbia and Bosnia and Herzegovina and gathered some of the most talented students from technology high schools and universities.
Through a two-week educational program and team work, students were able to participate in projects in a simulated work environment and gain valuable hands-on experience that helps prepare them for future careers in IT.
One of the goals of EDIT is to provide participants with a combination of theoretical knowledge and practical real-world examples, as well as immerse them in actual projects that they can fully participate in from start to finish.
The 2015 projects covered the most current topics and themes in the IT world.
Safety Life Tracking – Kragujevac, Serbia
The EDIT15 participants in Kragujevac were tasked with developing a user application for monitoring roads, traffic and vehicle accidents. The students worked in small groups using SCRUM methodology and various technologies, including ASP.NET (backend), HTML5 and AngularJS (frontend) enabling them to learn about the software lifecycle development.
Safety Life Tracking – Belgrade, Serbia
The EDIT15 participants in Belgrade also worked on developing a user application for monitoring roads and traffic. The goal of the project was to display the selected area or route with an exact position on a map via a web application. When the application starts, it shows a selection of recorded routes that are located on the server.
Video Player with Annotations – Banja Luka, BiH
The EDIT15 participants in Banja Luka were asked to create a HTML5 video player that enables users to add helpful annotations with icons and custom text at a certain point in the video. The frontend of the solution was based on HTML5, CSS3 and Angular, while NodeJS and MongoDB technologies were used for the backend.
Single-Page Application and Cloud API – Sarajevo, BiH
The EDIT15 participants in Sarajevo had the opportunity to develop a Singe-Page Application (SPA) that handles user's appointments, meetings, reminders, important tasks, etc. within a calendar. The EDIT Sarajevo team built an application that is focused on the Calendar view and integrated with an existing backend API, as well as a cloud-based analytics service.
Development of Multi-Level Solutions with Lego Robots – Maribor, Slovenia
The EDIT15 participants in Maribor developed a multi-platform solution for a web shop with a simulation of the robot system storage management using a Lego robot Mindstorms EV3. The solution is based on JaveEE platform and Angular JS web technologies. The students created a working system which enables the user to activate the robot through the app. The robot then physically takes the item from a temporary storage and delivers it to the order area.
Mobility-as-a-Service (MaaS) – Ljubljana, Slovenia
The EDIT15 participants in Ljubljana presented a solution for increasing fleet utilization within a car sharing platform. The solution consists of tools for fleet visualization and analytics and is built on advanced technologies, including JavaScript, AngularJS, Bootstrap, Java, Node.js, D3, MEAN and REST protocol. The solution enables the users to increase fleet utilization, proximity optimization (decrease the distance walked) and improve predictive maintenance and support.
Sustainable Mobility for the City of Ljubljana – Ljubljana, Slovenia
The second EDIT15 team in Ljubljana consisted of international students from Germany. The team presented concepts for sustainable mobility for the city of Ljubljana that are based on the system of public transportation and shared vehicles (Mobility-as-a-Service concept). Students focused on two main problems that Ljubljana is facing – pollution and traffic jams. They presented solutions how these problems could be minimized through MaaS.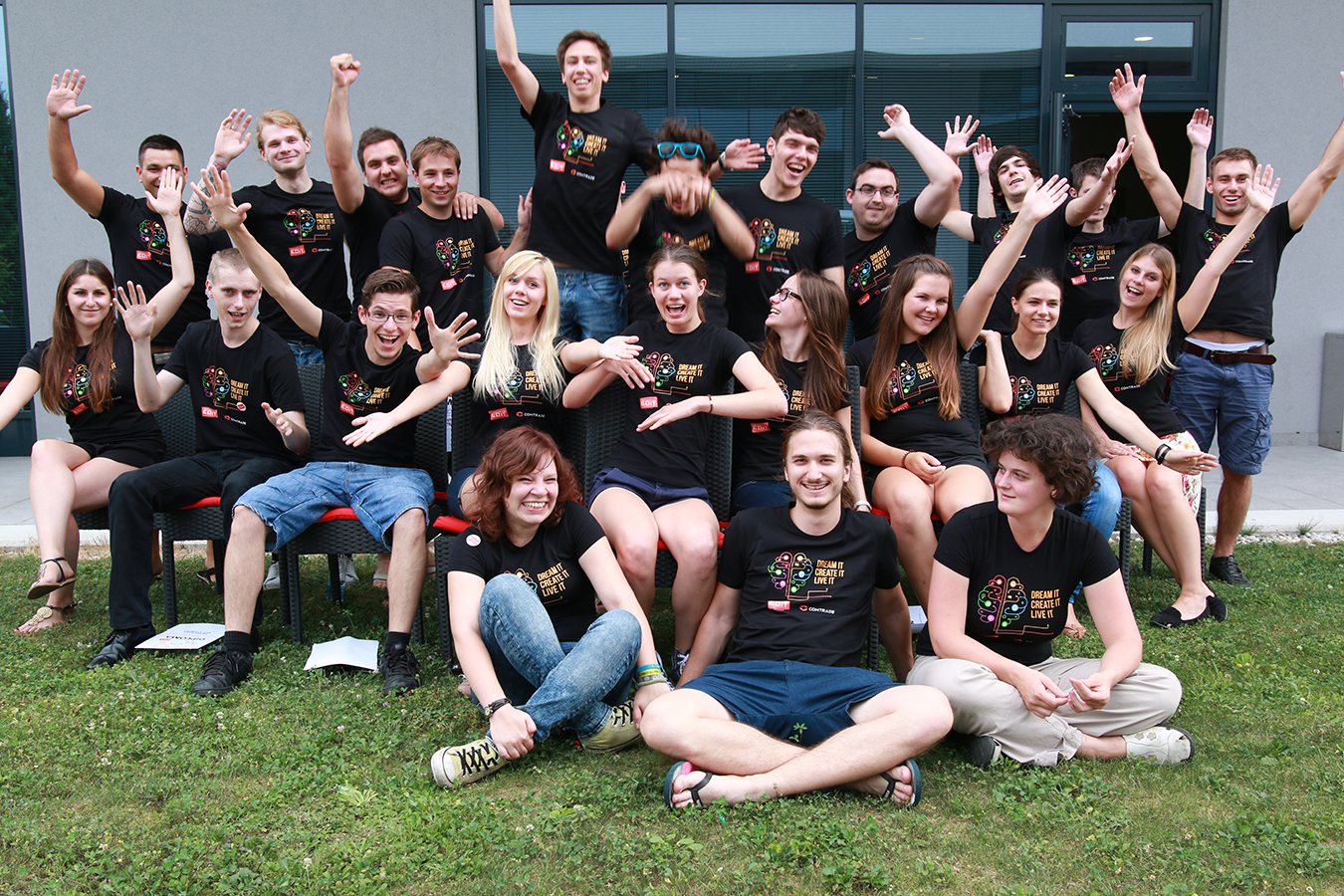 Facebook

EDIT
15-03-2018
Live! :)

EDIT
13-03-2018
Stop by our booth at Teconomy Maribor on the 15th of March to catch up on the latest news. :)
Vsi študentje tehniških, naravoslovnih in ekonomskih fakultet vljudno vabljeni na tradicionalni karierni sejem Teconomy 2018 v organizaciji društva IAESTE LC Maribor! Na sejmu se bodo predstavljala slovenska kot tudi avstrijska podjetja, ki nudijo različne zanimive zaposlitve ter študentske organizacije, ki ti lahko pomagajo pri pridobivanju bodoče službe! Poskrbljeno bo tudi za kavo in malico! TECONOMY je tvoja VELIKA PRILOŽNOST za zaposlitev!

EDIT
05-10-2017
Another
#ShareITSarajevo
meetup alert! Share It Sarajevo team, in co-operation with Bosnia Agile, will organize a game during the meetup and reward the lucky ones with two tickets to
#BADay2017
conference! Check it out: Bosnia Agile Day 2017!
Many companies today deliver software developed by teams distributed in multiple geographical locations. There is a real need for it since organizations get more and more global and it should not be avoided. And how is agile affected by this? Is working in distributed teams anti-agile? In this kind of teams, communication can be a real challenge. Face-to-face communication has no substitute and agile development depends on constant collaboration. We are not able to have a shared whiteboard and truly collaborate together. Bad connections and different time zones are just part of the problem. And culture differences in working and communicating can come as both benefit and a drawback. In this presentation, we will explore some of the drawbacks as well as benefits of working in a distributed agile team and some of our best tips and methods that helped us to increase team productivity. We would like to share with you some of the real case examples from our experience in being part of distributed agile teams on several international projects over the years. We would like this to be more an interaction between us and the audience, not only us talking to you. That's why we would like to highlight the challenges that can arise in distributed agile teams, explore some of the strategies to address those challenges, and show you how to turn work in a distributed team in your favor. About the Lecturers: Amela Teftedarija is lead QA engineer and team lead at Comtrade with more than 10 years of professional experience in software development industry and proficiency in test automation. She is certified Scrum master and owner of ISTQB Foundation Level Certificate. Currently, she is working on multi-site agile project practicing Scrum. She is a big fan of Scrum framework and its everyday practitioner. She is an active member of Comtrade testing community (QUEST) and one of the organizers of ShareIT Sarajevo meetups. Darko Nikolic is a motivated and passionate IT professional with more than 5 years of software engineering experience. Currently, he is working on multi-site agile project practicing DevOps as a full-stack web developer in Comtrade. He is a big fan of Agile and Scrum and its everyday practitioner. He is certified Scrum master and one of the organizers of ShareIT Sarajevo meetups.

EDIT
07-09-2017
Dear students and friends from Bosnia, we invite you to join our colleagues at their next
#ShareITSarajevo
#Meetup
. You can find more at this Facebook Event and you can also RSVP here: https://goo.gl/gWLWgK
As a professional, one should stand behind the code that he/she writes and guarantee that it is working once it is out and the way to do that is to test it. By now most of the developers have heard about unit testing frameworks and when we look at an example it is trivial and easy to understand. The problem is when we try to write it in production code we often fail. During this talk, we will point out a few things that make code untestable and try to demonstrate ways to overcome these issues. About the Lecturer: Aleksandar Dostic finished Theoretical Computer Science at the University of Sarajevo. He's been working last 6 years on a software solution for speeding up and automation of the deployment process and auto-provisioning of virtual machines mainly in Java. As a speaker, he was invited to the University of Groningen and JavaCro Conference to present a solution for fast deployment of different service versions, on the complex private cloud environment.

EDIT
28-08-2017
Comtrade's EDIT IT Summer School wrapped up last month. We learned a lot, had plenty of fun and, of course, uncovered our inner IT heroes. For those who missed out, here's a recap of our summer.
#EDITworld